From a manufacturer of wooden barrel washing machines to a highly technical specialized vessel and apparatus developer and manufacturer.
Follow our evolution from a wooden barrel washing machines manufacturer to a specialized vessel and apparatus producer.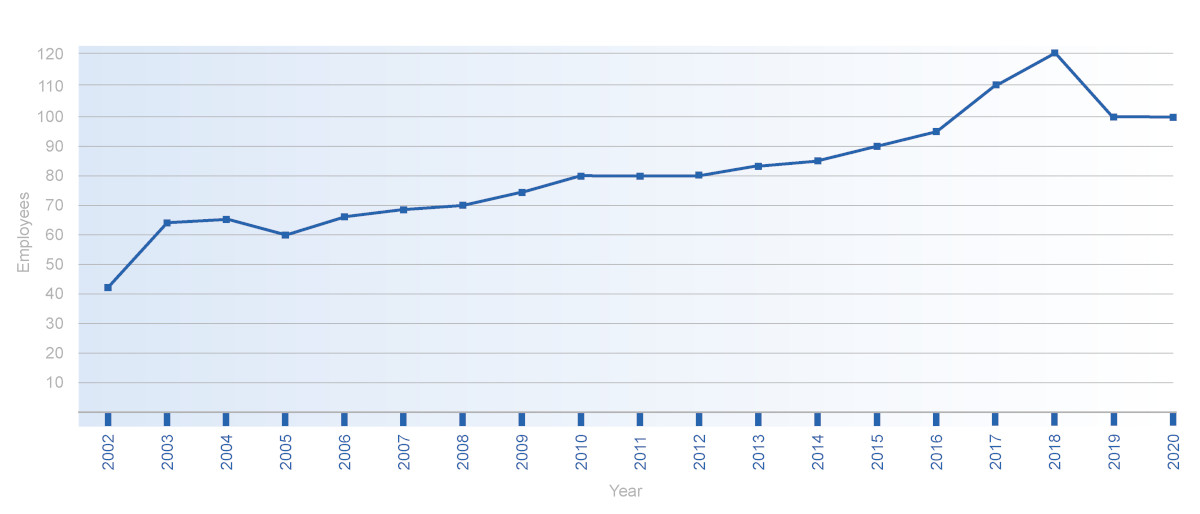 Timeline
2018

Investment in reverse osmosis plant for 20.000 l storage of demineralized water
Investment in ultra mobile multioptional 3D milling machine for on-site machining of big parts
Further increasing share of the special materials product line in apparatus and tank construction
120 employees

2017

Investment in 3D milling machine for part sizes up to 3.000 mm diameter
Investment in additional base grinding machine, Chance to multiple machine operation
Investment in orbital welding technique
Beginning of planning phase for building extension BA3
Further qualification of employees in all specialist areas with regard to the processing of nickel and nickel-based materials
110 employees

2016

Restructuring of our production into individual supervisor's areas
Purchase of adjacent land and therewith start for expansion
95 employees

2015

Acquisition of an automated welding machine for welding of round and longitudinal seams and half pipes on vessels and apparatus
June: AMS again participated in the ACHEMA fair in Frankfurt – a complete success.
90 employees

2014

Extension of our existing crane system by two further cranes
Enlargement of welding area to 540 m2 by modifying a separation wall.
Acquisition of a two-belt grinding machine with scissor lift for high quality grinding of flat surfaces.
Acquisition of several turning/tilting devices to optimize working conditions
84 employees

2013

January: Introduction of a new 3D Design and Engineering System with a direct modelling method
June: Successful Renewal of ASME U-Stamp accreditation, successfully audited for ASME UM-Stamp accreditation
82 employees

2012

June: June: First participation in the ACHEMA fair in Frankfurt with great success.
July: 10th anniversary of the company operating under the name AMS Technology GmbH
September: Successful audit and receipt of the Chinese Manufacturing License D1/D2 for the export of pressure vessels into the People's Republic of China.
80 employees

2011
2010

August: Successful audit and receipt of the ASME U-Stamp accreditation for engineering and delivery of pressure vessels and apparatus adhering to ASME Code.

2008

December: Commissioning of a new 3D robot plasma cutting machine with a plasma smoke filtering system
December: Commissioning of a new three roll bending machine
September: Commissioning of a new grinding room dust extraction and filter unit
August: Completion of new production hall area: Doubling of the production capacity from 3,100 m2 to 6,200 m2
August: Commissioning of a new servo-conventional cycle controlled milling machine
70 employees

2007
2006

January: Move to the new premises with administration building and 3,100 m2 production area on Johann-Esche-Strasse in Limbach-Oberfrohna.

2005

Acquisition of a new swing folding machine
Acquisition of a console milling machine
Acquisition of a welding seam smoothing machine
60 employees

2004

Acquisition of a container and base grinding machine resulting in a considerable productivity increase due to time savings
Acquisition of a rapid radial drilling machine
65 employees

2003

Acquisition of new plate shears
64 employees

2002

Founding of AMS Technology GmbH as a subsidiary of OMEGA Blechbearbeitung GmbH in Limbach Oberfrohna. This extended OMEGA's product range with pressurized vessels, appliances and stainless steel products.
42 employees
Historical Development
In the early 60's, AMS Technology's predecessor manufactured wooden barrel washing machines in Limbach-Oberfrohna. By the end of the 60's, technology advanced and the company started to move from wooden onto stainless steel products. At the begin of the 70's, the company had stopped manufacturing wooden products. It also started expanding into supplying components for textile finishing. Until the end of the 80's it further diversified its product range by developing and manufacturing own dying mill machines.
Following the German reunification and the political changes in 1989, the Saxon textile industry collapsed. The company was looking for new paths and product ranges and it seemed that vessel and appliance production might be the answer. Under the name Aurich Edelstahl GmbH, the company innovated in the field of vessel and appliance production.
On July 2, 2002, OMEGA Blechbearbeitung GmbH took over the business and founded AMS Technology GmbH. AMS was integrated into the OMEGA group of companies and has since enriched the group's product portfolio. Thus, the OMEGA group could now offer everything from sheet metal processing to machining to stainless steel appliance production.
At the time of the takeover, the business employed 42 staff. Since then, AMS not only continuously increased its turnover but also more than doubled its size in terms of staff. Apprenticeships always were and still are the corner stone of the company's personnel policy. Currently, the company trains two apprentices per year with the aim of integrating them into the business on completion of their course.
The continuous growth of the company meant that it could begin the construction of purpose-built premises. Being so close to the A72 / A4 motorway junction, the industrial park Süd just outside of Limbach-Oberfrohna promised ideal transport links. The move from the old rented premises in the Waldenburger Strasse in Limbach-Oberfrohna was completed by February 6, 2006.
Good business and full books meant that, within two years, the company could expand its facilities to double the production capacity from 3,100 m2 to 6,200 m2.