Process, Pressure, Mixing and Storage Vessels and Apparatus
The vessel production branch is organized into porduction islands. Here, the prepared and prefabricated components coming from the branches cutting, prefabrication, grinding, machining and pickling (in cases where prepickling was required) are assembled, aligned, fitted and then welded in an X-ray-proof fashion.
Additionally, all further jobs that require welding are carried out here: production, aligning and welding of nozzles into the pre-made vessel base openings / holes, fitting and installation of legs or support brackets, installation of the heating or cooling system and all other installations and fittings.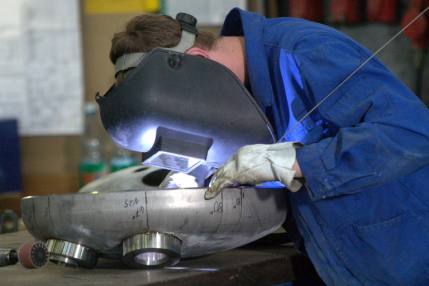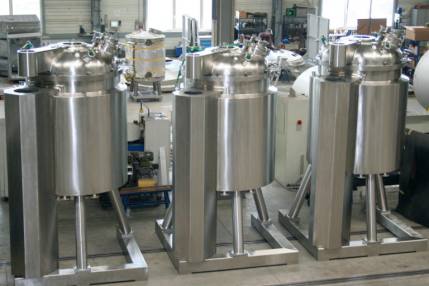 Once all jobs are complete, the vessel has to go through the grinding area again. There, we remove all processing marks and finally create requested surface roughness. Subsequently, the vessel is acid cleaned / pickled at the processing marks. Then the vessel is moved to quality control, where it is checked regarding its dimensional accuracy and pressure resistance as per the requirement specifications. For pressurized vessels, the measurements are documented for the Technical Control Board (TÜV) approval.
Once the final checks are completed, the vessel is then insulated (where required), cleaned and rendered passive. The vessel is then prepared for transport by sea or truck and dispatched according to customer specifications.